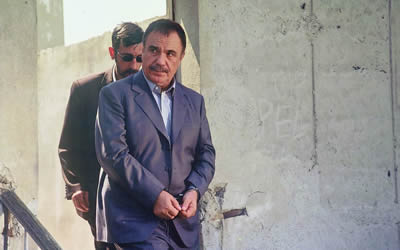 Yolda
Director: Erden Kıral
Cast: Halil Ergün, Yeşim Büber, Serdar Orçin
TURKEY-BULGARIA, 2005
35 mm. / Color / 90'
Turkish; English s.t.
"I HAVE COMPOSED THIS STORY WITH INSPIRATION FROM A JOURNEY I MADE WITH YILMAZ GÜNEY. IT IS BASED ON REAL LIFE EXPERIENCE. BUT I HAVE TILTED AND TWISTED THIS EXPERIENCE. YOLDA IS A FILM ABOUT FREEDOM AND CAPTIVITY", says the director Erden Kıral. During military rule, Yılmaz, a legendary filmmaker, is transferred to another prison. During the journey, his wife, a friend of his from prison and a young director follow him in a car. The cars stop at a motel for the night. Here, the young director, himself wanting to break free of the prison of his own making, confronts his master, but actually he is still very much under his master's influence.




ERDEN KIRAL

He studied ceramics at the İstanbul Academy of Arts. He has written on film for newspapers and magazines. Bereketli Topraklar Üzerinde / On Fertile Lands, won the Best European Film Award in Strasbourg; Hakkari'de Bir Mevsim / A Season in Hakkari, received the Silver Bear, FIPRESCI, CICAE and Otto Dibelis awards at Berlin Film Festival; Ayna / The Mirror was nominated one of the "10 Best Films of All Times" by the European magazine. He made nine award-winning feature-length cinema films. He has been a member of Berlin Akademie der Künste since 1984.
Filmography
1978 Kanal
1980 Bereketli Topraklar Üzerinde
1983 Hakkâri'de Bir mevsim
1984 Ayna1987 Dilan
1988 Av Zamanı
1993 Mavi Sürgün
1999 Avcı
2005 Yolda